As you probably know by now, Casper's Rescue Shop was founded with an important purpose in mind: Help Shelter Dogs.
Each advocacy accessory purchased from Casper's Rescue Shop raises awareness of the 670,000 shelter dogs euthanized each year and also feeds up to 7 shelter dogs.
Some accessories also have their own unique meaning, which make them extra special to some dog advocates. In no particular order, here are our favorite items based on advocate feedback!

1. "Over The Rainbow Bridge" Natural Stone Bracelet
These bracelets have a very special meaning to anyone who has ever lost a dog. They remind anyone who wears them that, "It's not goodbye, it's I'll see you again one day at the Rainbow Bridge." We know we'll see our dogs again one day, and these bracelets are a way for us to carry their memory with us wherever we go.
2. "The Four Elements" Natural Stone Bracelets
The Fire, Earth, Wind, and Water bracelets in the Four Elements set each symbolize the balanced, loving relationship every person should share with not only their dog, but with every animal. Just as nature is balanced, we should be, too.
3. "All Dogs Go To Heaven" Sterling Silver Angel Feather Ring
My personal favorite – I absolutely love this ring. The band, which is designed to look like an Angel Feather, immediately caught my eye and I knew I had to have one for myself. This ring symbolizes the pure soul of every dog, and also reminds us that every dog has a spot reserved in heaven where we know they'll be waiting for us. I wear mine every day.
4. "Wish Upon A Paw" Cord Bracelet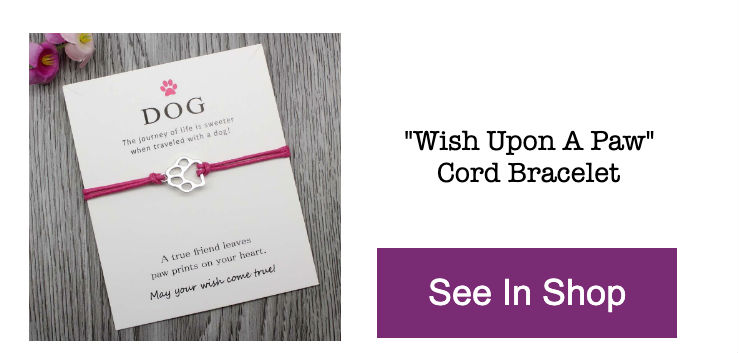 Simple and light on the wrist – each bracelet is a wish that a shelter dog may find its 'fur'ever home. Advocates love getting multiples of these so they can gift them to fellow dog advocates. May a shelter dog's wish come true!
5. "My Dog Is My Best Friend" Natural Stone Bracelet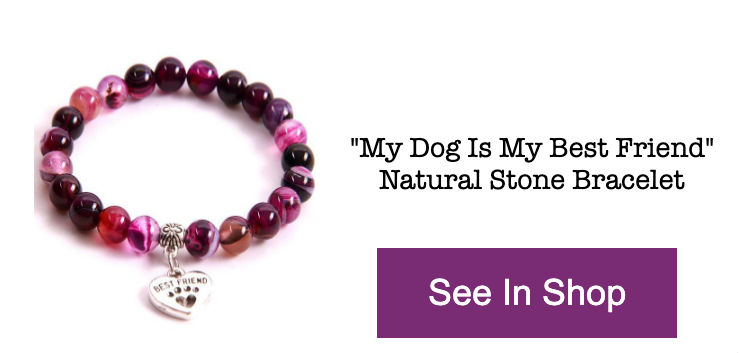 This bracelet has a simple, yet wonderful meaning. It's a best friends bracelet… for anyone whose dog is their best buddy! As many of our community members say, "The more people I meet, the more I prefer my dog!" If you're proud to have a canine best friend, this bracelet is for you.
6. "My Dog Is The Key To My Heart" Sterling Silver Key Necklace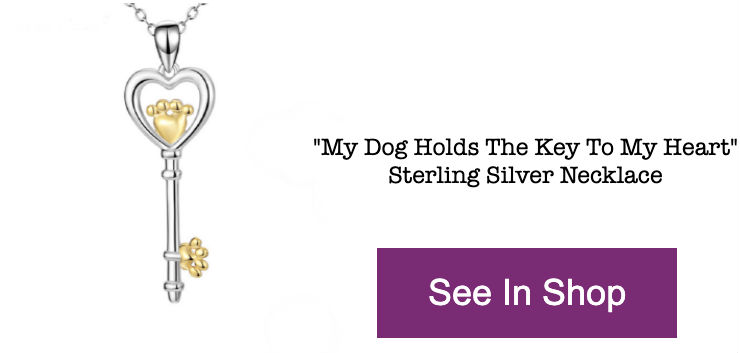 This necklace is absolutely beautiful, and it's made with real sterling silver. The design is subtle – so if you're not looking to make a very loud statement, the key provides a elegant, classy look. Then if someone looks a little closer, they'll see the paw print… dog lovers will notice it right away and instantly know they have a friend in you.
7. "My Dog Anchors Me" Natural Stone Bracelet Stack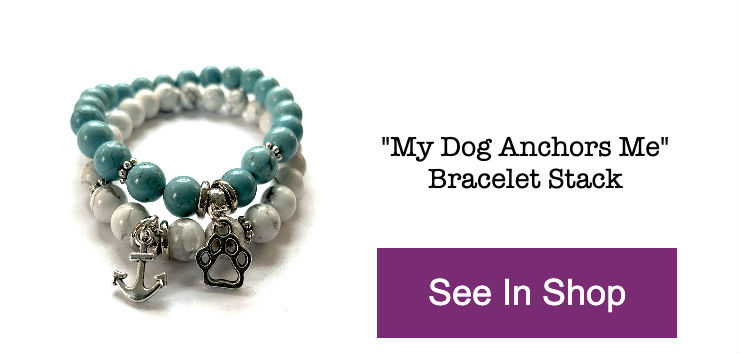 This natural stone bracelet stack is for anyone who knows their dog anchors them. If your dog is the remedy to a stressful day, and keeps you from losing your cool, then this beautiful bracelet stack is perfect for you.
8. "Life Is Better With Pets" Tote Bag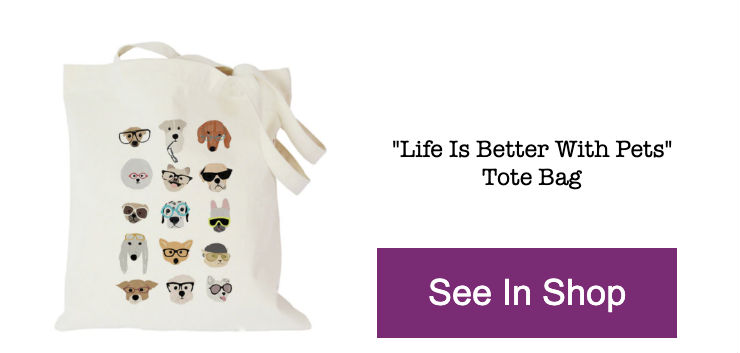 Who needs a fancy designer brand bag when you can have something simple that makes a positive statement instead? Dog Advocates use these Life Is Better With Pets daily, whether as a carry all, or even as a reusable grocery bag. Adorable!
9. "Paw Prints On My Heart" Natural Stone Bracelet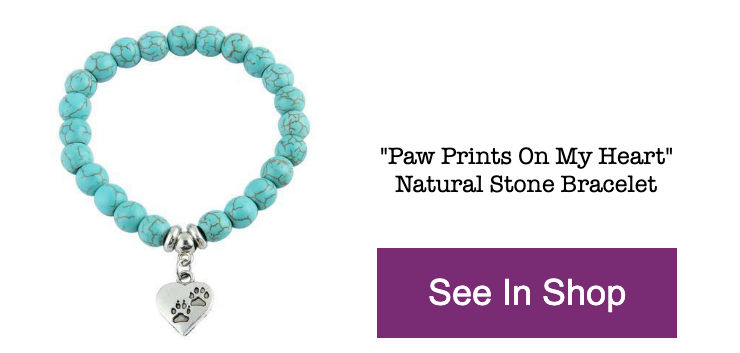 The symbolism of this charm captured my heart, as well as the hearts of many visitors to Casper's Rescue Shop. This is one of our most popular bracelets – dog lovers adore the aquamarine natural stone beads, and the heart charm with paws imprinted on it. Personally, I know there are about 6 pairs of paws imprinted on my heart!
10. "Love You Forever" Sterling Silver Paw Ring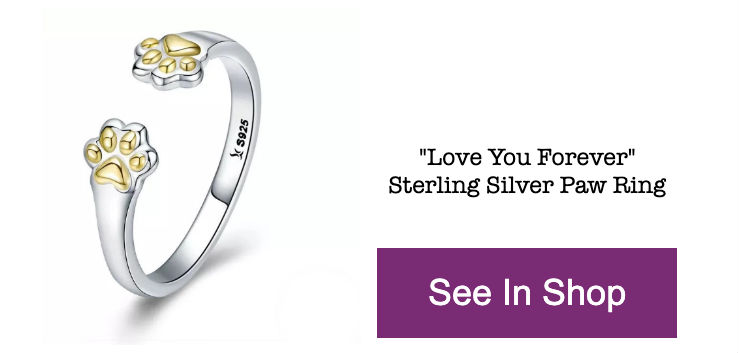 This slim sterling silver ring is another favorite among dog advocates. We think of it as a promise ring between a dog and its owner, as it reminds us to be as loyal to our dogs as they are to us.
If you haven't made a purchase from Casper's Rescue Shop, now's the time! Don't forget to take 10% off your first purchase using code DOG10.